BUGABOO BY JANNISSIMA
The perfect companion to the Bugaboo Boxer luggage system.
Meet Bugaboo by Jannissima, the next step on our journey into luggage. This line of stylish travel bags is meant to be used with the Bugaboo Boxer, Bugaboo's revolutionary luggage system. The Bugaboo Boxer isn't a suitcase; it's a modular system equipped with unique light push steering, and our new line is its perfect companion. The Bugaboo by Jannissima bags is the first collaboration and include large and medium sized 2-in-1 trolleys that instantly transform from roller bags into a shoulder bag and a classic handbag made from premium leather and fabrics.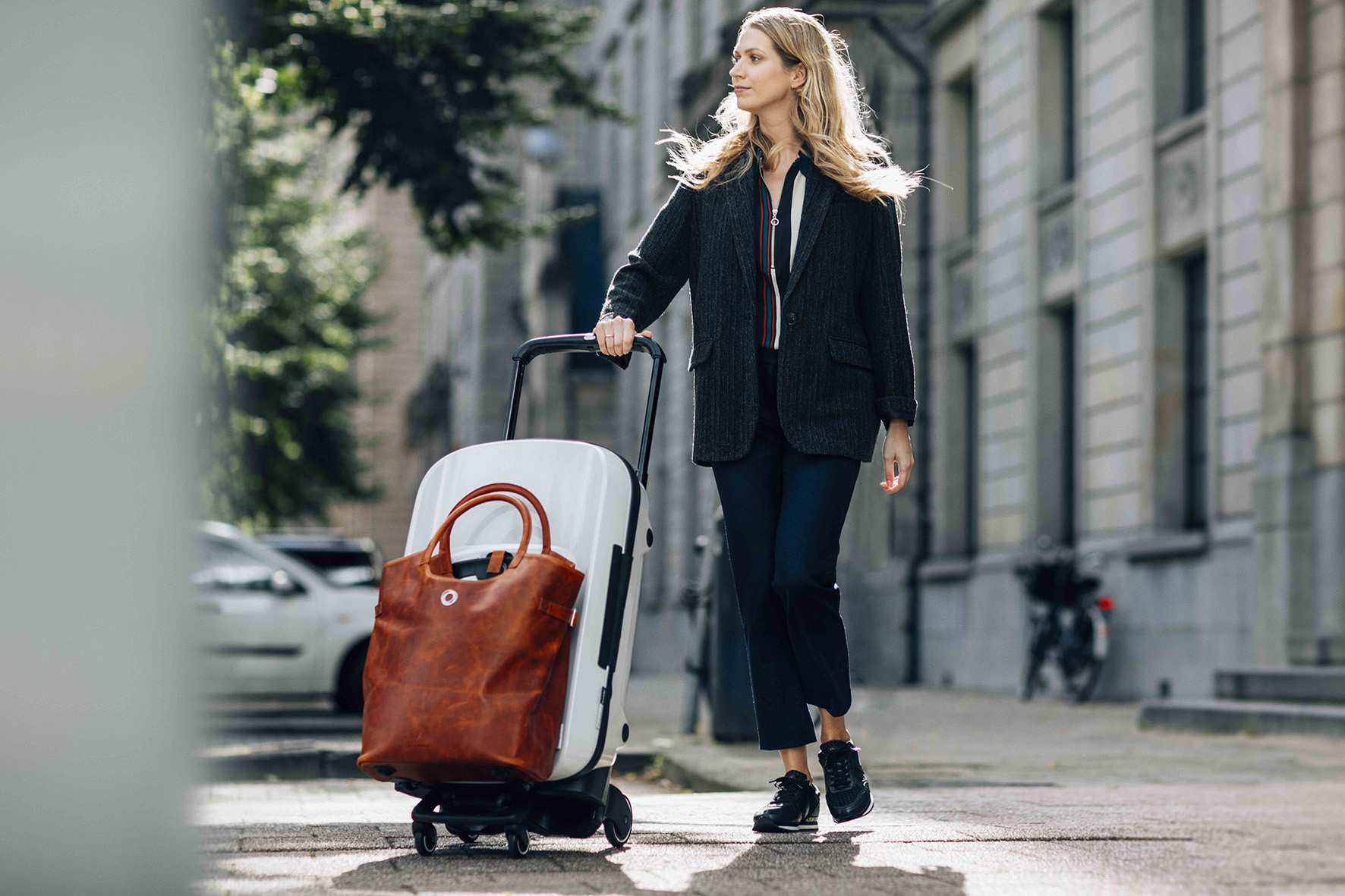 BUGABOO AND JANNISSIMA: A dynamic design duo.
Dutch designer Jannita van den Haak first caught the attention of Bugaboo Chief Design Officer Max Barenbrug with her innovative label of travel goods and handbags: Jannissima. The two designers had something important in common – they were both obsessed with finding beautiful solutions to modern mobility challenges. Soon Jannita joined the team of Bugaboo designers to add her expertise to the development and styling of the hard finishes and soft fabrics of the Bugaboo Boxer.
While working on the Bugaboo Boxer, she and the team began developing the Bugaboo by Jannissima collection. As a starting point, the Bugaboo team worked to refine the Jannissima roller bag to enhance its smooth ride. Alongside Jannita, the team perfected the details of the collection and created a system that allowed the bags to connect to the Bugaboo Boxer as the first Bugaboo Boxer Collaboration.
Everyday luxury
From the workday to the weekend, these BUGABOO BY JANNISSIMA bags keep you looking sophisticated no matter where you go. They're ideal for using about town, on business trips and during travels abroad. The collection exudes elegance and creates a feeling of indulgence and refinement. The 2-in-1 trolley changes from a handbag to a roller bag in an instant, highlighting the luggage system's commitment to versatility and clever design.
Unmistakable style
This bold BUGABOO BY JANNISSIMA collection was designed to stand out. It's perfect for travelers and city dwellers who enjoy turning heads. Each piece is crafted from premium materials and features handy pockets that keep everyday essentials neatly ordered. Get the best of both worlds: practicality and style.
As of December 2016, BUGABOO BY JANNISSIMA will be available both online at Bugaboo.com and in the Bugaboo Amsterdam and Berlin stores as well as in Clerkenwell London and our pop-up store in New York City. The collection will be available online in Austria, Belgium, Croatia, Czech Republic, Denmark, Finland, France, Germany, Hungary, Ireland, Italy, Luxembourg, Netherlands, Portugal, Slovakia, Slovenia, Spain, Sweden, United Kingdom and the United States.
#bugaboobyjannissima #mystylishtravelbag